I'm American.  And I am proud to be American.  I respect our National Anthem, our Flag, our President, our President's Office and Administration. That doesn't mean that I agree with everything that the President does or says or the way he does it or says it.  It means that our President's office is the highest office in the land, and I respect it because there is something in me that makes me believe I should.  There's something in me that is grateful for the men, women and animals who protect us and defend our land and Constitution.  And no matter how I feel about an issue going on in our Country, I won't disrespect him.
We have a lot of traditions in our Country.  Football is an American tradition.  And for us, College Football is the big 'un.
Today my husband went to an Auburn football game with his brother.  He's a big Auburn fan and I am an Alabama fan so as we say down here in the South, "We're a divided family".  But we're not really.  I go with him to Auburn games and he goes with me to Alabama games.
Except when we play each other.  I just can't do that.  Smiles.
It's a well known fact that we take our College Football very serious down here.  I used to take it more seriously than I do now.  But some people…man, oh man.  Relationships have ended, kids have been yanked out of one school and put into another, friendships have been destroyed and many people have had to go on blood pressure medicine–all over football.  And I am not kidding.  I am totally serious.  People down South–and especially in Alabama–we love and we are crazy over football.
And there is one thing that is still part of our football games.  We always play/sing the National Anthem and we always salute our Flag.  I think that if one of the Alabama players were to ever "take a knee", Nick Saban would kick him off the team right that second.  No questions asked.
Today at the Auburn game, they had Military Appreciation Day.  My husband sent me a couple of pictures.  He was crying because it was so moving.  I just wanted to share them with you.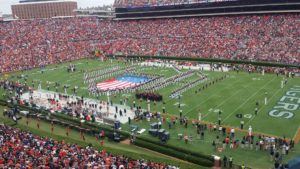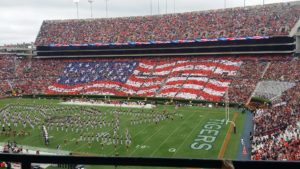 If you're a fan of College Football, I hope you've gotten to see your favorite team win today and I hope you enjoy your weekend!
Can you comment with your war cry?
Roll Tide!
Charity & The Horse Mafia