I've learned.  A lot.  And I learn every day and I pray that I continue to learn every day until the day I die.  I never, ever want to be at a place where I stop learning.  Isn't that what life is all about?  Learning?
In my life, I've lived, I've loved, I've lost, I've missed, I've hurt, I've trusted, I've made mistakes, but, most of all, I've Learned. ~Unknown
And I think I can say that I learned more in 2017 than I did in all my other years combined.  I'm smiling as I write that. But I do think it's true that you learn more as you get older.  I think that's just a factor of life too.  Maybe it's because we allow more open space in our heart and mind in order to learn.
I feel blessed to live the life I now live and the life I've lived up to this point.  I've had some losses and I've been hurt.  But even with those, I learned.  I've learned from my losses and I've learned from my hurts.  If you've never lost or never been hurt, you probably haven't done much living.
And I've placed trust in people for whom later I wished I hadn't.  But's that's life too and I learned from it.  Learning who you can trust is one of the most important life lessons.  I learned this particular life lesson very well.
And, Lord, the mistakes I've made.  So many.  But I now see mistakes as lessons learned and I grow from them.  In my younger life, I didn't handle mistakes so well.  Each time I made a mistake, I would beat myself up for it over and over again.  So I was reliving it over and over in my mind, keeping regret in my heart.  That wasn't very productive and I learned another way to deal with mistakes–you have to see them as lessons learned and grow from them.
I pray that as God grants me the number of my days, He will also continue to give me a love of learning!
Sending you learned blessings from Sterrett, Alabama!
Charity
If you missed our "Mom" poster this morning, you can see it here: "Mom"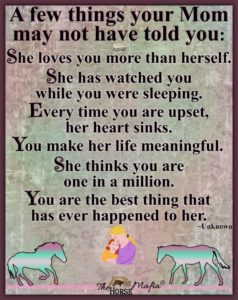 If you missed our "Never Lose Hope" Video, you can see it here:
You can get our "Lone Warrior" Necklace here: "Lone Warrior" Necklace